College Board's AP classes have several tremendous benefits for college applications and higher-level education. Whether you're looking for a way to boost your resume, gain college credit, or challenge yourself in high school, AP courses are the place to look. Most students fall under the first two categories, and all AP courses are the same amount of credit, so finding the easiest ones would make the most sense. It can be hard to measure how easy a class is since it can vary with a student's interests and needs for college. Here, we simplify this process by listing out the easiest APs voted on by a pool of students.
Determining the Difficulty of AP Classes and Tests
There are two key aspects to consider when estimating the difficulty of an AP subject. First is the year-long course, taught similarly to a university-level lecture course. Second is the end-of-year final exam that scores each AP student's knowledge of the topic on a scale from 1 to 5. In addition to weighing both factors, you must consider what suits you the best. For example, a good test-taker should prioritize the class difficulty, while a diligent learner could manage a challenging course but struggle on a more difficult exam.
Consider the subject area of the exam as well. For example, you should avoid taking environmental science if similar courses were challenging to you in the past. It may be worth considering an AP in history if you excel in that subject, even if other students generally view it as the more difficult option.
Five Easiest AP Classes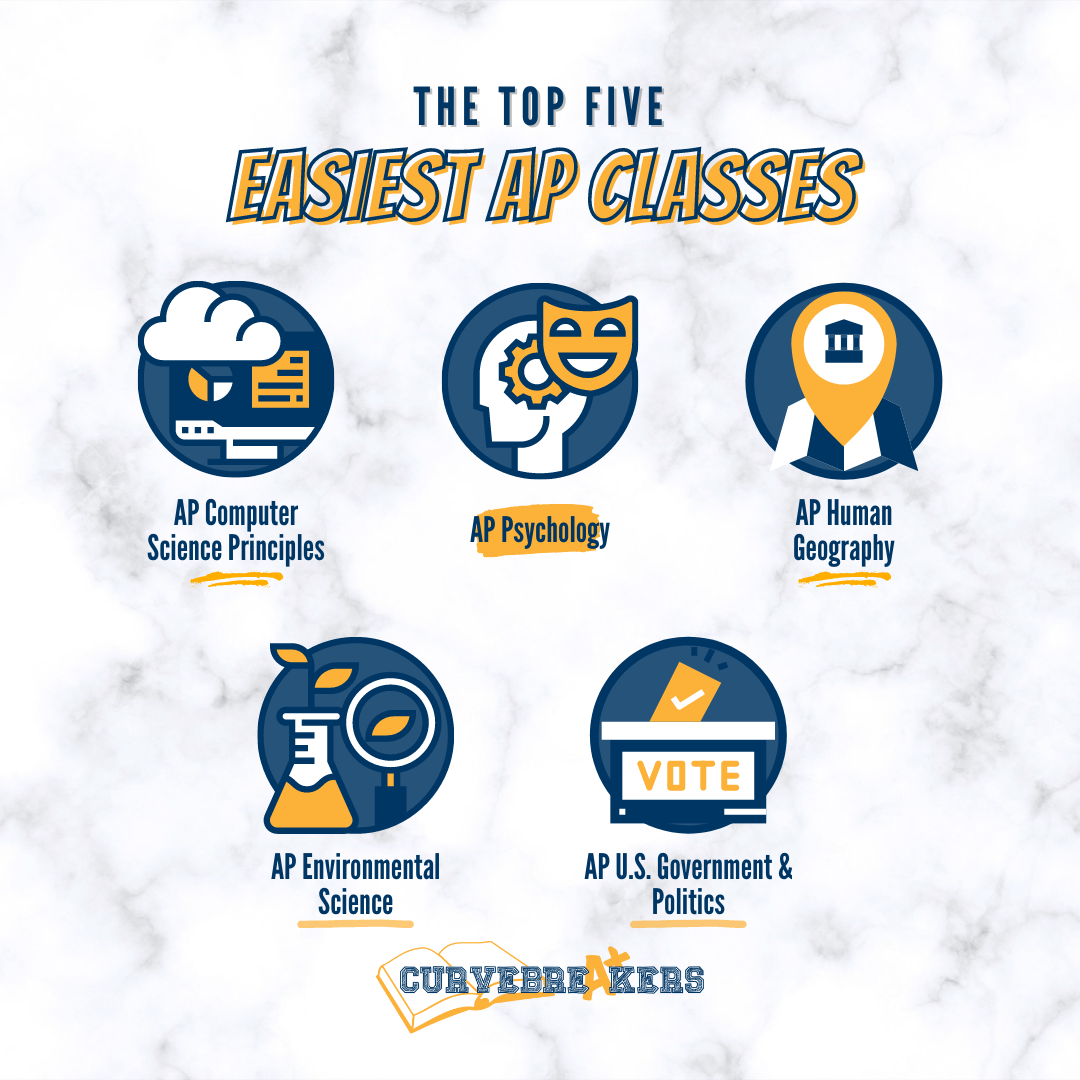 Based on student polls, the five AP courses that are considered the easiest are:
Computer Science Principles
Environmental Science
You may be wondering: what makes these classes easy? Many students thought that the workload was not as bad as anticipated. Also, even though these courses may seem niche, most high school students will be well off taking these even without a deep interest in the subject. These classes are most comparable to a typical or advanced high school class, so it should be relatively easy to succeed in the course if you pay attention in class and complete all of your assignments.
Five Easiest AP Exams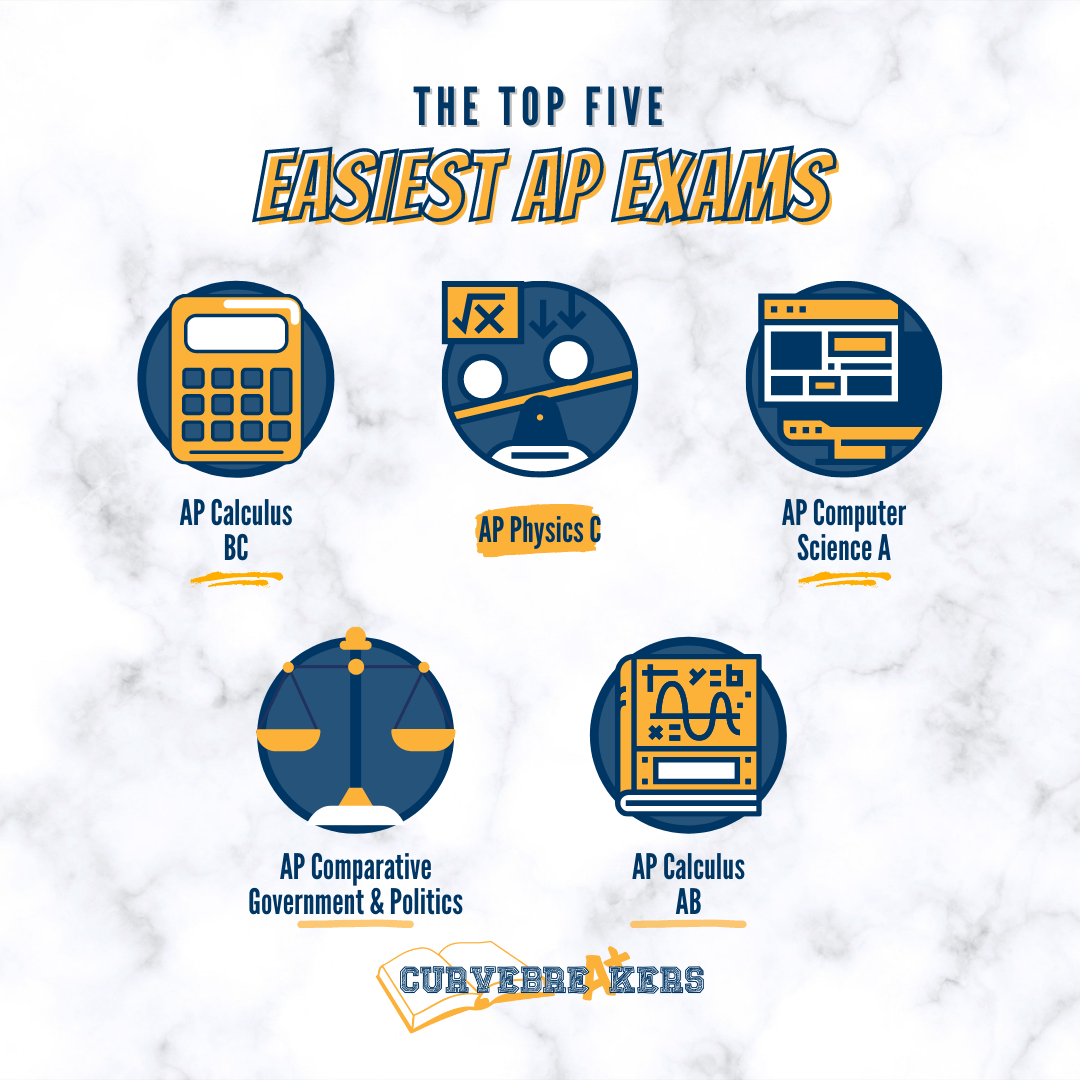 Based on the same polls, these five AP exams are the easiest:
50% of all test-takers for this exam earned a 5, which is the highest of any AP test. The odds are favorable for most students to get a high score.
80% of test-takers scored at least a 3, which many schools count as college credit for Math courses (or a 4, which the majority scored).
Preparing for AP Calculus BC? Check out our Study Guide!
2. Physics C
Although slightly less than Calculus BC, 30% of test-takers get a 5 on this exam, so a staggering one in three people will score the highest mark.
Similarly to Calculus BC, 80% of test-takers scored at least a 3 for this exam, which can be very useful for STEM or science majors.
3. Computer Science A
Although the course is challenging for many, 65% of people pass with an exam score of 3, 4, or 5.
This course and exam can be beneficial to beginning a career in Computer Science or learning more about how technology is changing the world.
4. Comparative Government and Politics
20% of students earn a 5 on this exam and 60% pass with a score of 3 or higher. Test-takers still have good odds with this exam.
The test is reportedly less intensive than the above subjects, which tend to be STEM-based and more rigorous in terms of the wording of questions.
5. Calculus AB
It is more likely that you earn a passing score by taking the higher level Calculus BC course, but the passing rate for Calculus AB is still roughly 60%.
25% of test-takers earn a 5, and the exam overlaps significantly with the BC exam, so this is great as a practice test for the "easier to pass" BC test.
Preparing for AP Calculus AB? Check out our Study Guide!
Which APs Should You Consider?
Overall, the College Board has designed AP tests and courses to be more challenging than their traditional or advanced counterparts. However, knowing the most favorable AP exams and classes can help you with your college applications and college credit. It is better to work harder now to have fewer required college credits (and less debt and stress) to worry about in the future. Make your decision cautiously and think back to the above information for a broad view of the subjects that will be sure to set you up for success.
Nick The Tutor and his team at Curvebreakers have a growing library of AP Study Guides.