The Digital SAT and the Class of 2025
The Class of 2025 will be the first group of US students to take the new digital SAT, starting with the PSAT in October and the March SAT exam in 2024. In addition to shortening the test, the College Board has made content and format changes, including new question types, removing the no-calculator math section, and administering the test on an application called Bluebook. Students will be required to take the exam on a laptop or tablet.
As the College Board phases out the paper-and-pencil exam, the class of 2025 has a few choices:
Start preparing for the SAT as soon as possible and complete SAT testing by the last paper-and-pencil exam being offered on December 2nd, 2023.
Avoid the SAT and prepare for the ACT exam instead. Colleges that consider test scores equally accept both SAT and ACT scores from applicants.
Prepare for the new digital SAT. It's also fine to take both an official paper test this fall and a digital exam next year. Students will still be able to superscore between the different formats of the test.
What about the Digital PSAT in October 2023? Curvebreakers is offering PSAT courses for students wanting to become more familiar with the content and format of the PSAT. These courses are designed to be an introduction to the digital PSAT/SAT. Only students vying for the National Merit Scholarship, which is tied to PSAT scores, should consider seriously preparing for the Digital PSAT. Private tutoring is available for those students.
To learn more about the Digital SAT format, visit our Digital SAT Hub.
---
Families and students have many choices when it comes to how they want to prepare for the SAT and if they want to prepare at all. Many aspects of a student's college application are optional: sports, clubs, awards, volunteer activities, etc. The same can be said about including an SAT or ACT score. Being able to submit a score when it improves a student's application is what is most important.
With Curvebreakers, students and families have a support system. Before selecting a package, sit with the owner, Nicholas LaPoma, to discuss any academic strengths and weaknesses and goals for college. Curvebreakers' knowledgeable staff can help answer questions along the way and coordinate with the tutor to ensure the student is on track to reach his or her goals.
Diagnostic Testing
Use data and diagnostics to benchmark starting points and gauge progress
Consultative Process
Discuss strengths, weaknesses, and goals with the owner and develop a personalized plan
Effective Program
Strengthen foundational and test-taking skills to reach a goal score
Packages are available in increments of 10 hours. Pricing is tiered based on three different tutor levels: Associate, Pro, and with the owner Nicholas LaPoma.
Explore Test Prep Packages
What are the differences between Associate and Pro Tutors?
Pro SAT Tutors have at least five years of experience successfully preparing students for the SAT and ACT as well as previous experience working for other tutoring companies, giving them the opportunity of working with students at all skill levels.
Associate SAT Tutors may be new to tutoring, have some tutoring experience, or have demonstrated expert knowledge of the exam and their ability to connect with students. Our Associate tutors range from full-time teachers to grad students.
All tutors have been trained thoroughly on Curvebreakers' methodologies, have been background-checked, and scored in the 99th-percentile on the SAT / ACT exams.
Which package is right for you?
Most students will sit for at least two official SAT exams. For families who are unsure about which package to select, we recommend registering for 2-3 exams with the College Board. Once you know which exams you will be taking, you can schedule your tutoring sessions around those exams.
Many students do well with starting 8-10 weeks before their first test and continue tutoring in between the remaining scheduled tests. This second part is important. It is ok to take a small break after sitting for an exam, but when students take too large of a break after an exam, it can set back their rate of improvement.
For these reasons, we typically recommend at least a 20-hour package. It offers family a better hourly rate than the 10-hour package, and any leftover hours can be transferred to another sibling or service, including college essays. There is no one-size-fits-all approach; every student has a different starting point and end goal. Please schedule a consultation with the owner if you would like guidance on which approach to take.
What are the average score increases of Curvebreakers' students on the SAT?
---
Based on real student score data from the 2018-2019 school year.
About The Exam (Paper Version)
| | | | |
| --- | --- | --- | --- |
| Section | # of Questions | Time Allowed | Extended Time |
| Reading | 52 | 65 min | 98 min |
| Writing & Language | 44 | 35 min | 53 min |
| Math (no calc) | 20 | 25 min | 38 min |
| Math (calc) | 38 | 55 min | 83 min |
---
About The Digital SAT (Online, Adaptive)
Section
# of Questions
Time Allowed
Extended Time
Reading and Writing/Language
Module 1
27
32 min
48 min
Module 2
27
32 min
48 min
Math
Module 1
22
35 min
52.5 min
Module 2
22
35 min
52.5 min
Tips to Improve Your Score
Tip #1: Take as many practice tests as you can! Curvebreakers offers practice tests every weekend.
Tip #2: Take more than one official SAT exam to accumulate the highest possible SAT Superscore.
SAT Test Prep: 6 Steps to Success
Are you new to the test prep process? This guide will take you through the major steps and help you create a plan to reach your target score.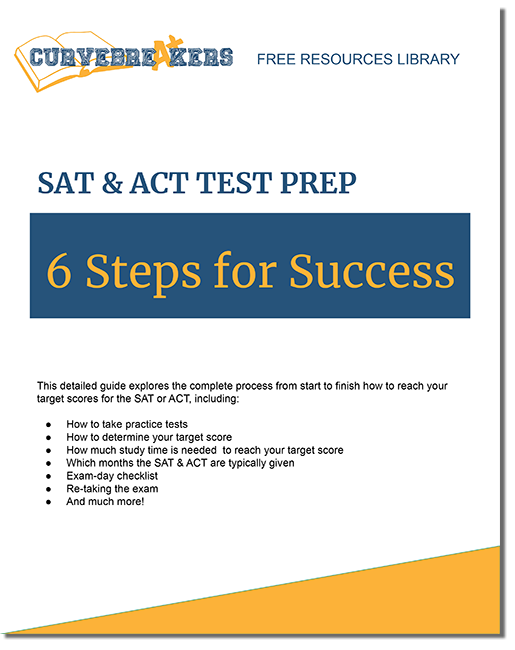 Enter your details below and download this free guide.
---